September 9 | The first roadshow of 2021 SCIP+ Green Chemistry and Chemical Engineering Innovation and Entrepreneurship Contest was successfully held in Shanghai International Chemical Innovation Center (INNOGREEN). The 15 teams focusing on the theme of "carbon neutrality" through a combination of online and offline performances, demonstrate innovative solutions related to clean energy, energy efficiency improvement, new material , carbon capture and other related innovations.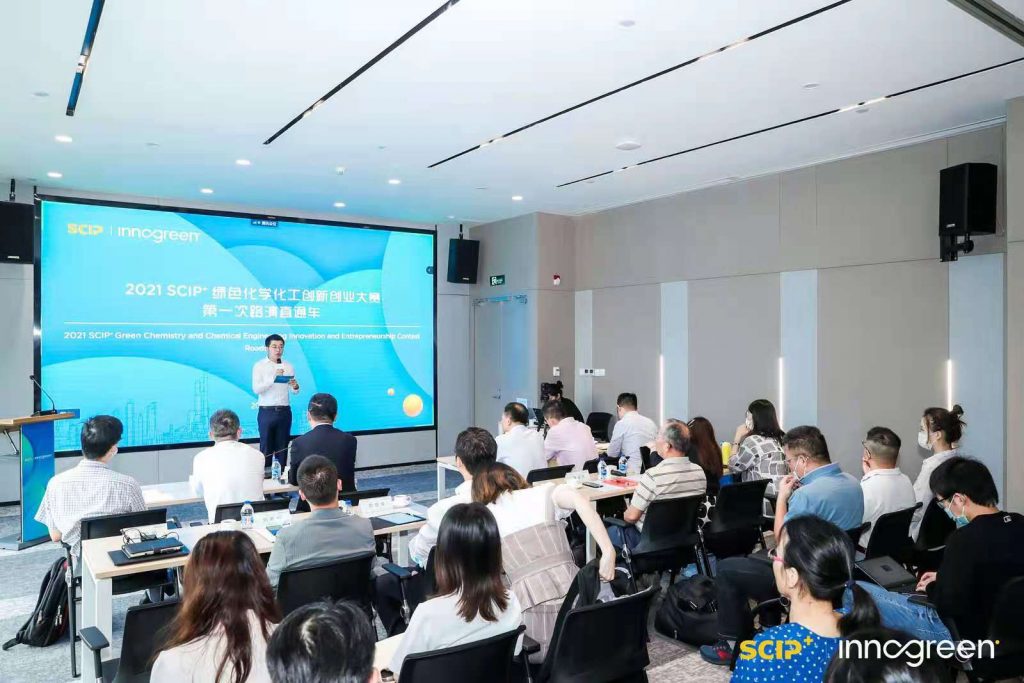 Organizer Speech | Jin Jian, General Manager of Shanghai Chemical Industry Park Development Co., Ltd. attended the event and delivered a speech on behalf of Shanghai Chemical Industry Park, "the center will continue to build platforms and create conditions for outstanding innovative companies and entrepreneurial teams in key fields such as new chemical materials, and strive to promote R&D incubation and application innovation, and contribute to the innovative development of green chemistry and chemical engineering."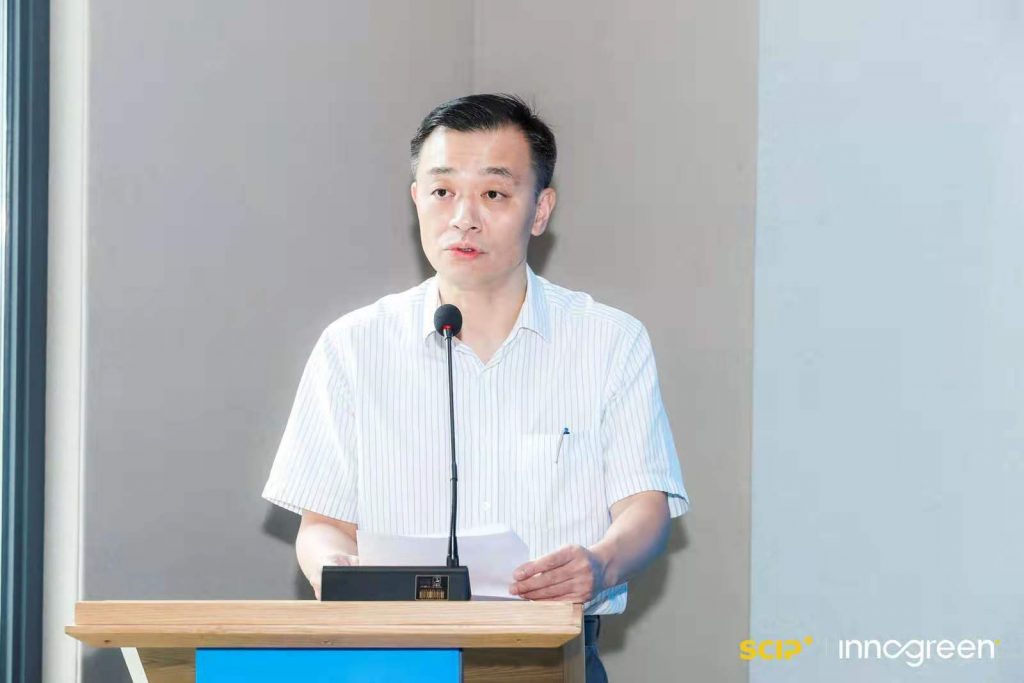 Jury Panel | Luo Yong, General Manager of the Science and Technology Department of Shanghai Huayi (Group) Company, Hu Dongqi, Technical Innovation Director of LANXESS Chemical (China) Co., Ltd., Chen Wansuo, Operations Director of BASF Chemical Co., Ltd., Liu Weiqing, Director of Arkema China R&D Center, Ji Chengchang, Director of Industry-University-Research Cooperation Division and Professor of the School of Materials Science and Engineering, Donghua University, Professor Zhao Shicheng, East China University of Science and Technology, Liu Chunsong, Partner of Step Fund, and Yang Yang, Senior Commercial Officer of the Ministry of Commerce of the Commercial Investment Office of the French Consulate General in Shanghai. After the judges reviewed from multiple dimensions such as innovation, commerciality, green efficiency, team situation, and social contribution, three teams won the finals. They are:
---
The Institute of Green Hydrogen Energy, Zhejiang Research Institute of the Chinese Academy of Sciences (Jiaxing Zhongke Haishi Alloy Technology Co., Ltd.), creatively transforms solid waste into super green hydrogen energy and negative carbon emission fuel natural gas through imitating mantle molten technology , to achieve the reduction of greenhouse gases in the earth's atmosphere.

Mi Terro is the world's first synthetic biology and advanced material company that utilizes big data to create home compostable, single-use plastic-alternative packaging materials made from plant-based agricultural waste – this is a first-of-its-kind approach. We are excited to see such a significant leap forward in our ability to manipulate nature's most diverse and abundant building blocks.

Foshan Lanqi Technology Co., Ltd. was established in January 2020. It is the tenth of "Blue Ocean Talents" team introduced by the Nanhai District Government of Foshan City, the "Science and Technology Talents" of the Guangdong Provincial Science and Technology Department. It aims to develop high-efficiency agricultural technology, providing products such as pre-harvest protection and post-harvest fresh integrated liquid, and solve the problem of overuse of pesticide and the cost of manual bagging in the agricultural production process.
---
More exciting moments | The roadshow teams conducted in-depth communication with leading international and domestic chemical companies, well-known universities and research institutes, and investors.